April 13, 2006 Thursday Day 12
Sun all day.
Temperatures 75 at noon, but Donna says the thermometer was in the sun
Walked 7.5 miles, drove miles
There was sun when we woke up. We couldn't believe it, and were out of the car and walking in no time. There had been so much rain in the last few weeks that the water was rushing over the spillway, creating a high country kind of roaring waterfall. We walked up to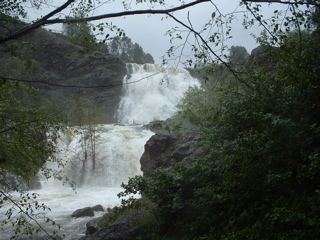 see it and found a fellow in tee shirt and jeans admiring it. "Doesn't seem like we could be in Morgan Hill does it!" he said as a statement, not a question. This only happens once every ten years or so, so it was our Muir luck to get to see it.
Although the Coyote Creek trail does connect with trails at Anderson Dam, we had to start walking on city streets as those trails were closed. After reaching the dam we started around the reservoir on a trail that left all civilization behind. We ended up at a small pond where we sat in the sunshine reveling in the beauty, where we watched the turkey vultures, Canadian geese and buffleheads and listened to the frogs. This was the first time Donna wanted to stop and paint.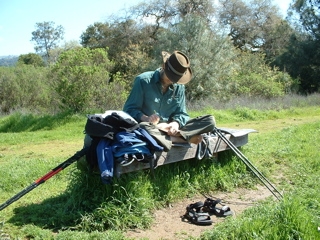 I had developed a theory during the last week, as we walked through the rain and under grey skies, that if the sun came out everything would look Muir beautiful, and that these paths we were walking would start to rival the beauty of the San Jose that Muir described. But the sun didn't ever really come out. When it did come out today my theory was confirmed: Donna wanted to paint, the plants and hillsides shone and gleamed, they had a radiant brilliance only Muir's prose could describe.
But we were soon back in civilization, as the southwest end of the lake is a residential neighborhood, which took an hour or so to walk through. It was not designed for walkers: there were no sidewalks, and it was hilly so we had to watch for fast appearing cars. This was the second residential neighborhood we had walked through (after downtown San Jose), and we enjoyed looking at the architecture and landscaping. We wondered if John Muir would have liked looking at the houses or if he would have only thought of them as a blight.
After leaving the housing we walked around the south end of the lake on East Dunne Road. It also was not for walkers, being only two very narrow lanes. The lake was full and as we passed a fishing site we saw picnic tables sitting in the water, like little islands by the shore. It was a few more miles up the road until we got to Jackson Ranch, where we ended the day. We rested against a giant old oak and waited for Ashleigh to pick us up and shuttle us back to our car. It was warm out, and as we sat in the shade, we watched a woodpecker do little loop the loops off the top of a power pole. We couldn't decide if he was showing off or catching bugs. A fellow drove by and yelled out his window. "What a life!"