April 29 Day 28
We woke before dawn and were on the road at first light to avoid both the heat and traffic on Highway 132. We had six or seven miles of walking that morning to get to Coulterville. We were definitely climbing into the foothills. The landscape was no longer rolling hills; it was scrubby hillsides. The rock outcroppings, yesterday little tombstones were today full blown mountains. We once again found paintbrush and Yerba Santa. At first I thought there was little lavender wildflower growing up through the black green foliage of the Yerba Santa, but then realized was flowering.
We came to a panoramic overlook. For as far as the eye could see there were only rocks and wildflowers, shrubs and brush, fields and trees. It seemed so pitiful that we had to walk through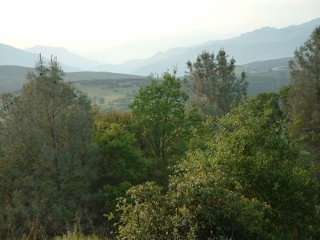 this wilderness on such a busy paved road. We kept looking for the old road wishing we could walk it instead. We saw cuts in the hillside above, and once we found a real trace: three large flat pieces of granite made a bridge over a little drainage. It was just wide enough for a horse cart and I thought about how the roads of the past must have been narrow paths through the wild landscape. What a pleasure it would have been to walk those roads, rather than our wide and barren swath of pavement. But there was no other option. Why have we created a world without little roads for walking?
As we walked, people waved. This was different than usual and we wondered about it. Were people really that much more friendly in the small towns of the foothills? We arrived at the old school house in Coulterville, where we were scheduled to talk. Folks came up to us saying that they had seen us walking on the road, and had waved, but didn't want to slow our progress by stopping to talk. (As if there were anywhere to stop on that steep busy winding road.) Mystery explained. There was a big crowd for the talk. We showed our maps and told stories about the ramble. We talked about what we were doing to promote the legacy of John Muir and walking as both a valuable pursuit and a viable a way to get somewhere. After the presentation concluded, I was handed a card with the name and number of Yvonne Bennette, who was thought to have already researched Muir's route from La Grange to Greeley Hill when doing research to create a John Muir Historical route. They thought her route followed an old road to the north of Highway 132. Our research showed that Muir c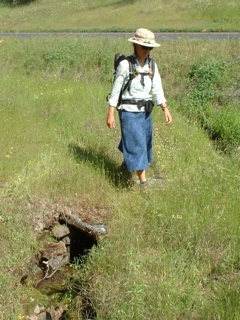 ame up what was known on the 1897 map as the "Coulterville Turnpike", and is now the 132. But we sort of hoped we were wrong, so that our Trans-California Ramble could bypass that dangerous stretch of the walk. We gave Yvonne a call and she said, "Come on over." We drove.
On the way there I noticed a fellow on the side of the road, lying in the midst of a sea of yellow flowers, on a raw serpentine slope created by the crew that cut the road. I thought he would be painting, like Donna, so I stopped to find out what he was up to. His name was William Sarento and he had a camera, not a paintbrush. He was up from Modesto, photographing the yellow monkey flower, through the raking sunlight, with a close-up lens. "I have to get at least three colors. This has the green of the rock, the yellow of the flower and the warm rose color underneath that no one ever sees unless they stop to look." He worked patiently, silently, lying close to the ground, moving his camera inch by inch until the perfect image appeared. To myself I thought, "He's like a hunter, up from the valley, out in the foothills seeking his prey." Then Donna said to me, "He is student of the wilderness, like Muir, like you and I."
Yvonne had a goat ranch on Penon Blanco Rd, which runs basically parallel to 132, just to the north. (Yvonne: "Goat is good meat. The whole rest of the world eats goat, but our government just promotes beef.") She was certain Muir had used Penon Blanco on his famous 1869 "First Summer in the Sierra" trip with the sheep because one of the sketches he made was of a meadow and hillside on her property. She took us to see the place. It seemed right. Penon Blanco may have been the road Muir took in 1869, but did he take it in 1868? We based our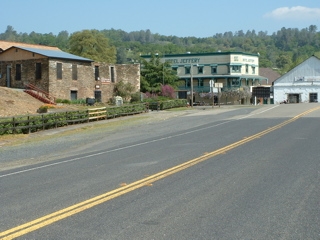 route on information from the earliest map we could find, an 1897 map of Mariposa County. It showed the Coulterville Turnpike where Highway 132 is now. Penon Blanco would have been a much nicer walk, but it does not actually go to Coulterville. It crosses on Highway 49 a couple miles north of town. Yvonne said that it used to connect to the Greeley Hill/Coulterville Road at Dogtown Road, but now it ends in private property. We left thinking that we needed to find if the Turnpike existed in 1868.
After visiting Yvonne, we drove to Mariposa to rest, write, do research in the Mariposa History Museum, and to let a few days pass so Muir could catch up with us. I know I have probably said this before, but it is our justification for waiting: Muir said after leaving the valley he was in bed with malarial fever for 4 or 5 days, and 1868 was a leap year, so we decided to wait for 6 days before tackling the Sierra, hoping that there will be sunny days and the snow at Crane Flat will melt.