The San Joaquin Valley
April 22
We had spent so much time at Henry Coe Park, waiting for the weather to clear before the backpack trip across the Diablo Range, that arriving there sort of felt like coming home. The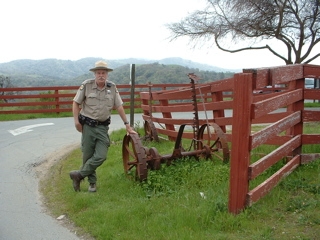 rangers and the Pine Ridge Association volunteers were all glad to see us again. We told them all about our trip through the wilderness and ranches, then recovered our van and returned to Gustine.
April 23 Day 22
Today we crossed the San Joaquin River at Hill's Ferry, just like Muir did 138 years before. Well, not exactly like Muir.when he crossed there was actually a ferry, now there is a bridge. And on the west bank of the river, where the rough and ready town of Hill's Ferry, with its saloons and brothels (which we joke might have been why he separated from Chilwell) used to be, now there is an auto racetrack and a trailer park. The river overran its banks two weeks, because with all the rain we have had, and parts were still underwater. (Gods wrath for the town's past misdeeds?)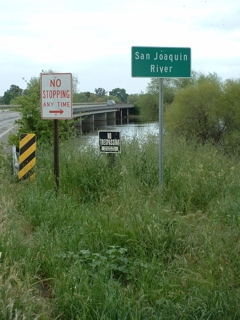 Muir states that at this point in his journey he separated from Chilwell to spend time botanizing, as there was such a profusion of plant life. Times have changed. What we saw was miles of freshly plowed fields, or ones that were waist high with some grain crop. We did see some wildflowers, beside the road and in empty lots. There were bright yellow mustard and dandelion, white and pale yellow radish, bright purple thistles, and an ever-present little purple geranium. I looked at them with my uneducated Peter Thomas eyes and thought they were beautiful, and Donna just called them weeds. I was surprised at this contempt, but then learned its source: the non-native weeds overrun the landscape and natives cannot grow. The only native we saw was fiddleneck, and it grew everywhere.
It would have been easier if Muir had wanted to look at birds, as the San Joaquin valley is a birdwatchers paradise. After crossing the river, we walked along a state game reserve for birds and saw cliff swallows, egrets, Swainson hawks, kestrels, western meadowlarks, killdeer and turkey vultures. Muir would have been in bird heaven.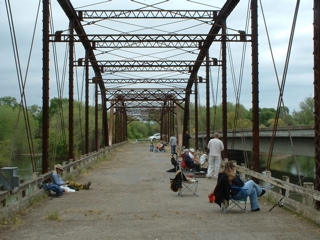 As we were walking along the shoulder of a little farm road with waist high grain on both sides a big red suv pulled over next to us on the road. We were scared, but it turned out to be people who had seen an article about our trip in a Concord, tri-county paper, and since they recognized us out here in the middle of nowhere wanted to stop to say hi. We thought we were going to get hassled and instead we get some praise. Life is good.
During the next few days we will follow the Merced River east. We cannot actually walk near the river, for it is all private farmland. We will be walking along the aqueducts and canals that parallel the river. We may not have Internet access for a few days, so check again on Thursday.