Rain in morning, but mostly sunny all day
Temperatures 73 at noon.
Walked 10 miles, drove 21.5 miles
When John Muir took his 1000 mile walk, he wanted to avoid the trails so he could find wild places and experience nature. Today we have to follow trails, like the one along Coyote Creek, as they are the only places one can find wild places and experience nature. The trail-less parts of Coyote Creek have chain link fences keeping us out.
We began the day by driving to Pat and Cari's house for breakfast, and had a nice visit with new friends made on the trail. After shuttling our car to where we will the end the days walk, Pat drove us in his electric vehicle back to the library to start our walk. We decide that if John Muir did drive, he would have owned one of these funny little electric cars. Pat and Cari live on Coyote Creek right at the start of the trail, so after a pleasant walk past the interesting historic buildings in downtown San Jose, we meet them back at their house, and they join us for the next leg of the day's ramble.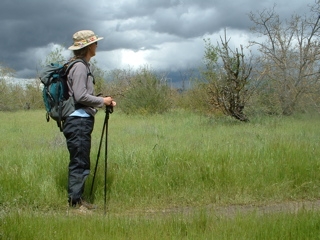 The Coyote Creek trail provides a nice ramble for a few miles. It ends at Kelly Park. We walk through the Japanese Friendship Garden, and it starts raining again. We take shelter at the adjacent History Park, where we enjoy the old buildings that have been moved there. They are filming a music video, so the streets are filled with old cars and people in vintage clothes.
The trail is not clearly marked past here, and rather than go back and walk along the street, we make a guess and follow a little trail through the weeds, along the river, and end up in a flooded homeless camp with wet clothes and sleeping bags strewn everywhere. We try to follow the river further but are blocked by poison oak and have to hop a chain link fence to get back to the street. We are not sure where we are, so keep going in the same direction hoping to find a path.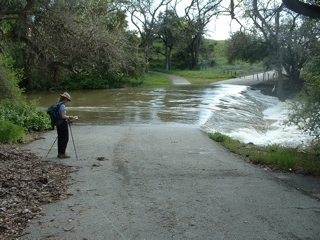 After passing behind a few commercial buildings, we come to a big open space where a huge tractor with big yellow jaws has just flattened an old barn and is in the process of tearing out some big old cottonwoods and oaks. We watch it munch into the branches and tear off the tops of several trees, then push what is left over and into piles. Muir had his "hoofed locust" that he complained were destroying the Sierra meadows and now we have "steel locust" destroying our history and open spaces to make more business parks. If the future is anything like we have seen on this trip, these buildings could be vacant for years.
The winter of 1867-8 was the fourth rainiest on record, but this winter may be even wetter. The last few days of rain have proved to be too much for the levies and dams. When we find the Coyote Creek trail again after walking only a half mile we come to a flooded crossing and have to backtrack and find a parallel path along the city streets. Once we get back to the trail we are again blocked by flooding and try to cut cross country, but end up behind a horse stable and not wanting to trespass have to backtrack again.
When we finally arrive at our car we find I have left the lights on and the battery is dead, luckily only a few minutes later a ranger comes by with a super charged jump starter gizmo and we are able to start the car and drive to our camp site in Coyote/Hellyer Park. The County Park system has supported our adventure by allowing us to camp in the park near the dog run (I was almost in the "dog house" for leaving the lights on, and now am camping in one.)