Rain most of the day, some heavy showers
Temperatures 63 at noon.
Walked 7.75 miles, drove 8.5 miles
The skies were grey when we woke up and storms were predicted. Donna's aunt JoAnne helped us to shuttle our car this morning. She has lived her whole life in the San Jose area, and told us about the old days, living in a big Italian family with a farm and a bakery. She tells us that where we are staying, the Hellyer area, has the reputation for being a very rough part of town.
There were little sprinkles and drops when we took off. We walked by the ranger station/visitor's center to get a map and were greeted by the regional and park supervisors who just happened to be meeting there. They asked about our walk, and we told them how we got lost yesterday. They explain why there is not consistent signage: since each city has jurisdiction over the trail as it passes through their city limits, each section has been planned independently. Although there is talk, as of now there is no organization that oversees the whole Coyote Creek trail.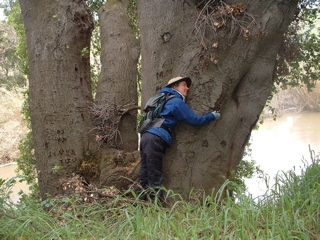 They have a nice visitors center with displays of the native wildlife, including a live rattlesnake. We joked about finding traces of human wildlife when we were lost (we came across several washed out homeless encampments). They told us that the county parks are home to many homeless, not so much the mentally ill, but rather those that are homeless by choice or have legal problems and fear getting caught if they live in city housing. The rangers' job is not so much to give them the boot (as it was in the past) but to give them options (tell them about public services or contact relatives who will come to get them). We realize it is real different running into someone on an urban trail than twenty miles into the wilderness. In the wilds of National Parks, when we see someone, we always stop to chat: we can be pretty sure that whoever we run into has similar ethics, values and reasons for getting out into nature. But so close to the city, it is easy to be leery when seeing someone else: it is easy to think, "they are a homeless person, mentally unbalanced or up to no good". We noticed this today when a jogger that passed us kept her eyes down, like the commuters in New York City do, to avoid contact.
Today's walk took us along tree and brush lined paths, then we would turn a corner and find only a chain link fence separating us from the freeway. The trail was speckled with spring wildflowers beginning to bloom even though it is still so wet and cool. It actually poured for a few minutes today, but for the most part, it was grey with little drops falling. The trail was underwater in several places, but never impassable, though at one point I had to make a log bridge with a downed branch to get over a flooded section.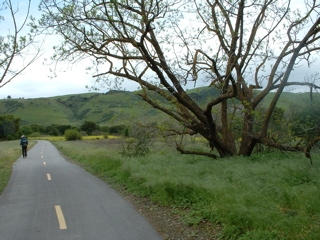 I began to worry that the rain was dulling my John Muir senses, so I took special notice of Muir-esque things: I saw poppies gleaming in a ray of sunlight that found a hole in the clouds. I smelled sage, and then saw its usually grey green leaves bright green today, festooned with purple puffball flowers. There was a big pile of tumbleweeds just ready to roll in the rising wind. We saw two huge valley oaks, twenty to thirty feet around and hundreds of years old. The ground under the oaks was almost dry, and I guessed that John Muir might have slept many a night under an oak. They are disappearing now, and are not regenerating well, but they would have been numerous back then.
We end the day at Coyote Parkway Lake, where we are allowed to camp on the fishing island. Just before we got there we found a thirty foot Indian totem pole washed up on the side of the creek. Such amazing things you see when you are walking.